Twende Home! Ama Siyo?
Sir. Richard Branson's flight to Virgin Islands was cancelled...he was stranded...he started Virgin airlines....We can also travel home...#TwendeHome
NAIROBI TO KAKAMEGA (VIA Kericho and Kisumu)
Date: SATURDAY 23 DEC 2017
REPORTING TIME 7:30 AM
DEPARTURE TIME 8:00 AM
COST IS KES 2,500 per seat
Meeting point: Jeevanjee Gardens near Parkside Hotel Monrovia Street

BUS No. 1
20

SEATS REMAINING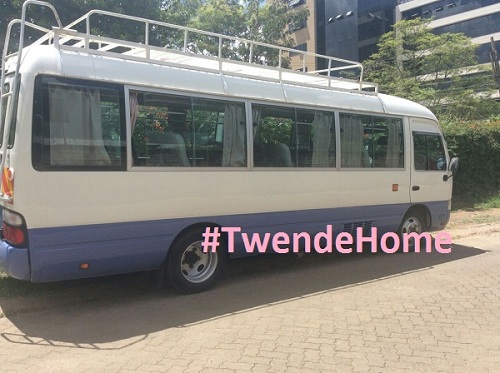 About us
Problem:You are stuck here in Nairobi, and you would rather be at home with you folks. You also want to book in advance so that you are not running up and down looking for options
Solution:We have partnered with a bus company ( East Africa Prestige Shuttles and Car Hire).We have hired a 25 seater bus...we just need to get 25 pax and our trip is on
FAQs
Payments: Once you click book you will reserve seats and pay using MPESA within 30 minutes or your slot will be release for any other person to book.
Luggage:If your would like to move your house kindly us a moving or relocation service. We recommend Nellions or Move Without Tears
Cancellation: The latest you can cancel is 22 Dec at 7.30 am, after this time you will forfeit your fare.
Quorum: We are targeting 25 pax for the first bus. If we do not achieve this number by 22 Dec at 7.40 am we will cancel and refund the full fare.
We are using the hashtag #TwendeHome on twitter...You can reach us via Twitter @hawlast and on Facebook: Hawlast
You can send us an email via the web form. You can also call 0720401869 / 0735187782
HAWLAST VENTURES
Serving Kenyans since 2010